ROUND TREE POTTERY
Panama City, Florida
Welcome to Round Tree Pottery!
Round Tree Pottery was founded in 1999 by Nolan Windoltz. The business grew steadily through the early 2000's and Nolan went from selling his pottery and clay art pieces at local markets and art shows to having 30 employees and supplying over 400 galleries and art stores throughout the US.
Nolan is now the sole producer of Round Tree Pottery's wide array of CLAY ART and POTTERY. He is well known for his whimsical animals which include, cats, dodo birds, penguins, owls and more. He creates pottery vessels that are both classical and modern in style. Utilizing the Raku firing process each of his pieces have their own unique glaze. Check out the Round Tree Pottery Photo Gallery HERE
Round Tree Pottery is based in Panama City, Florida which was devastated by the 2018 Hurricane Micheal.  Thankfully, Nolan's studio was not destroyed and he was able to resume production once the electricity was restored to the area. To find out more about Nolan Windholtz and Round Tree Pottery Click Here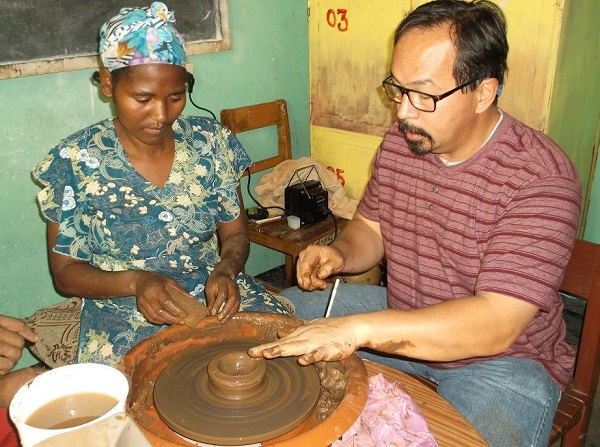 Round Tree Pottery is more than just a retail ceramics business. Nolan travels regularly to countries in Africa, Eastern Europe, and Asia teaching the art of pottery. Often working with Christian Ministries, Nolan uses his pottery wheel to demonstrate how God relates to His children. Find out more...
Round Tree Pottery Instagram