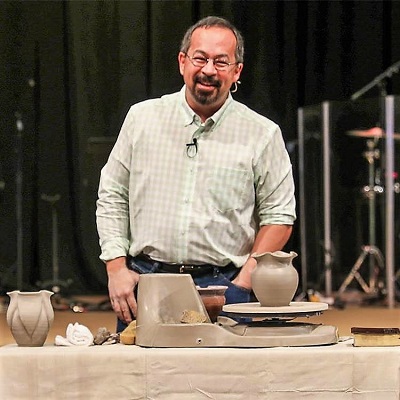 Nolan Windholtz has been a professional potter for thirty years. He has also heeded the call on his life to take the Christian Gospel message to the world. In 1994 while living in Houston Nolan started working with a Texas-based prison ministry. During this time he developed his pottery based message and to this day Nolan loves to take this visual sermon into prisons everywhere.
Nolan made his first trips abroad in 1994-97 where he would spend several months each summer in Russia traveling throughout the nation. These Russian trips would include travel legs to other nations such as Israel, the Netherlands, and Italy. Most recently Nolan has been focusing his missions work in the nation of Uganda where he has also been instrumental in establishing a pottery business in the city of Jinja.
Nolan's purpose is to always serve the local churches with an encouraging word from the Lord. By bringing the potters wheel into a church, he opens the visual door of the mind and heart of the believer so they might better understand their God and His Workings in their lives. Even familiar scriptures will burst with fresh revelation as you hear and see Nolan forming the clay.